In the age of the vikings, Roskilde was one of Denmarks great and important cities - settlement was there way before Denmark was christened. Being only some 50 kilometres away from the current capital of Copenhagen, it can seem slightly odd that one of Denmarks cathedrals is placed in the - now - somewhat smaller town of Roskilde. But tradition is carried on through time - the development of Copenhagen from a small fishers' settlement into an important city was actually initiated by the bishop of Roskilde, Absalon, back in 1167.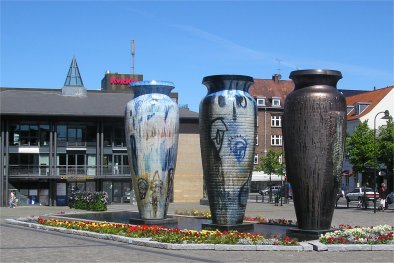 For the tourist in Copenhagen, Roskilde is definitely worth a visit. Whereas there are many more cosy little towns with streets and well kept old houses, none of them have the important sights that Roskilde has to offer. Both the magnificent cathedral and the Viking Ship Museum are well worth a visit. Furthermore, Roskilde has the avantage of being within relatively easy reach of public transportation via a mere 30 minutes ride by regional train for the central railway station in Copenhagen.
Especially during summer, the life of the main pedestrian street in Roskilde can also compete with Copenhagen's ditto as far as atmosphere is concerned - just slightly less hectic.
The regular viewer of MTV and similar channels may know the name of the town mainly for the annual Roskilde Festival. This does in fact, however, take place on a field a good bit away from the actual town.